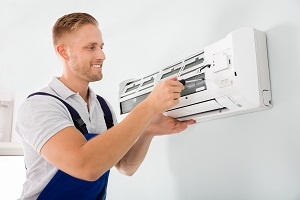 How do you find high-quality heating and air conditioning services in Conyers, GA? Keep reading for tips from the professionals at Omega Heating and Air.
Shop Around
When you're shopping for the best heating services in town, always shop around to get the best deals. Start by doing some comparison shopping online. Check client reviews on websites like Google, Angie's List, and the Better Business Bureau. Most heating and air conditioning companies will offer a free assessment of services whether you're shopping for a new unit or just routine maintenance. Always ask for an itemized estimate of parts and labor in writing, then use this estimate to compare services and prices with other local companies. You can even show these estimates to other HVAC representatives. Companies are eager to earn your business and will usually try to meet or beat their competitor's quotes, but only if you have it in writing.
Business Credentials
Before you settle on a specific HVAC company, make sure to verify their business credentials. Always ask for these three important pieces of information: the business license number, the company insurance policy, and a list of professional affiliations. Verify the business license number with your local or state business bureau. Verify the level of business insurance by calling the insurance provider. Business insurance protects you and your property in the event that a technician has an accident or damages your property while on the job. Business affiliations are important because they represent a high standard of quality. Members of organizations like Air Conditioning Contractors of America are held to high standards in regard to electrical safety and environmental sustainability. By verifying these few pieces of information, you'll also eliminate your chances of being ripped off by scam artists posing as HVAC professionals.
Maintenance Plans
Once you've selected the best HVAC company, make the most of their professional services by signing up for a yearly maintenance plan. Maintenance plans usually include regular tune-ups on your HVAC system. Technicians are trained to look for subtle anomalies in your system that could develop into a serious problem later. By catching these problems before they cause catastrophic failure, you save hundreds in emergency HVAC repair services.
By following these easy tips, you're guaranteed to find high-quality services for air conditioning and heating in Conyers, GA.