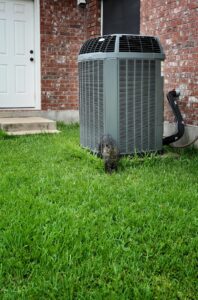 In a tight economy, everyone is looking to save money. Most of the time that means cutting corners on things that may not seem all that important. Insurance, especially for a business, may not seem like your concern as a consumer. The business saves money and charges less for its services. However, at Omega Heating and Air in Hampton, GA, we know how important it is to hire a professional HVAC company that is insured.
Insuring in the USA
Insurance often seems like a bad gamble. Paying a monthly fee just in case something goes wrong can feel like throwing money away when nothing does go wrong, especially when those fees are expensive. However, when it comes time to use the services of an insurance company, having insurance protects you, your home, your finances, and your family. Not everyone sees the value of insurance, which is why when it comes to getting a good company to maintain the system that provides your heating and cooling, you should make sure to ask about its insurance status.
American Horror Story
An HVAC service in Hampton, GA, was repairing the outdoor air conditioner on a home that had a very small access way. The space between the house and its neighbor was tiny, so when the HVAC repairman dropped the air conditioner, it crashed through the window of the neighbor's home and killed the neighbor's dog. The worker was taken to the hospital because he injured his back and hands trying to stop the unit from falling. It was an accident, but the HVAC company didn't have insurance. The neighbor sued the company and the homeowner who hired the company.
Homeowner vs. Business Owner
This hypothetical situation, based on case studies, highlights the main issue. Who is responsible for damage done on a property? Even more poignant is who is responsible for a worker who gets injured in your home? If the company in charge of your HVAC repair in does not have insurance, you and your insurance might be the responsible party. Because the accident happened on your property, your homeowner's insurance may come into play. That means a higher premium to you in addition to the guilt, remorse, and trauma you may experience due to the accident.
Don't Take Chances
When it comes to heating and cooling repair in Hampton, GA, there is no reason to take chances. Having a licensed, bonded, and insured company come out to take care of your HVAC needs is the only real choice. It may be a little more expensive than hiring an individual who has none of those qualifications, but in the end, you will be assured that you are getting quality work done. More importantly, you will be protected if anything does go wrong. It is that peace of mind that should be part of any job that is done in your home, especially when you hire a job out to a company that is supposed to be professional. Asking about insurance, bonding, and training should be one of the first things you do before engaging a company to repair anything in your home.